One of the best things about doing makeup in Western Massachusetts is that there is a photography school chock full of fantastic young talent, amazing studio spaces and top-notch equipment right up the highway in Turners Falls. In the past few months, I have been "friended" on Model Mayhem by dozens of Hallmarkers who are seeking project collaborators to help fulfill their class assignments and personal projects. I've been fortunate to get some nice images out of these gigs, too.
Right now they all seem to be doing high key portraiture, which is great for my portfolio – the models' faces really stand out against the white, shadowless background. Hallmark has the kind of studio equipment that few freelancers can afford (or make room for)… this shot, by Alex Minkin, was taken with a beauty dish the size of a television studio satellite dish (around 7 feet in diameter):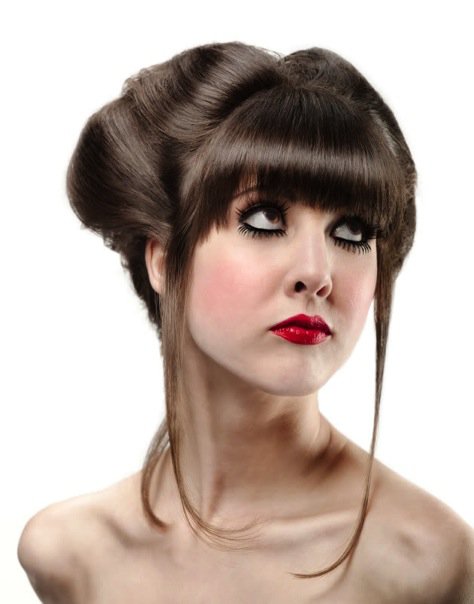 (We did crazy black lips and gold leaf in the second round. And didn't Jen do an incredible job on the hair??)
It's also fascinating to wander through the building and see the photography on the walls. One model I work with fairly regularly (hi, Freya!) graces the wall near some of the faculty offices. Come to think of it, I should check out the Hallmark Gallery on Avenue A. It's a stone's throw from the Rendezvous.
Anyway, I worked at Hallmark on Friday and Sunday, and plan to spend most of next weekend up there as well. It's hard to say no! So if you're a Hallmarker who happens across a bespectacled brunette doing makeup in the women's bathroom, and taking up most of the counter space (that's one thing Hallmark needs: a makeup studio), be sure to say hi.