Urban Decay was the first brand of makeup that I fell for in a big way. I suspect it was their image. I was a high school proto-goth (although, admittedly, I didn't wear ANY makeup back then with the exception of chipped black nail polish), and UD's edgy colors, packaging and product names spoke to me in a way the ladylike Revlons and Mary Kays of the world never would. And it certainly doesn't hurt that their products are cruelty-free (and many are vegan as well). I still have some of the discontinued nail polishes, and one of my happiest makeup maven moments was when a friend who had worked at Urban Outfitters back when UD was sold there passed along her sample kit to me. (The liquid liners and glosses all had to be tossed, but the kit included a big pile of untouched, and in some cases discontinued, eye shadows! It was a happy holiday indeed.)
Nowadays I have many UD eye shadow colors in my kit – I love how soft and blendable they are, although admittedly I stay away from the ones with lots of gritty silver glitter. I'm also a big fan of their super-soft, waterproof 24/7 pencil liners (but again, I wish they'd come out with some shimmer- and glitter-free pencils!) Since I prefer to have lots of shades in one place, I also have one of their gift palettes, the Deluxe Shadow Box:
Here are some back-of-the-hand swatches for ya: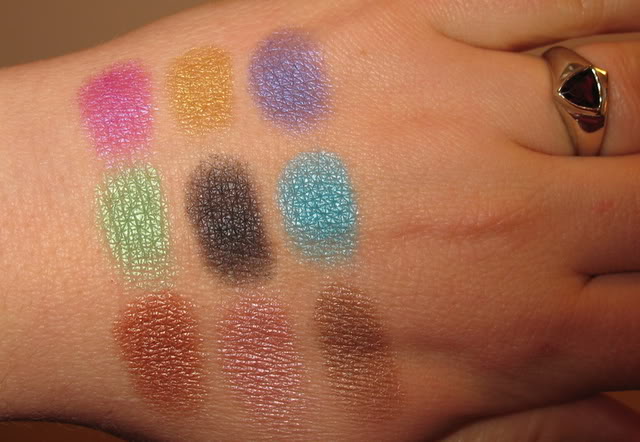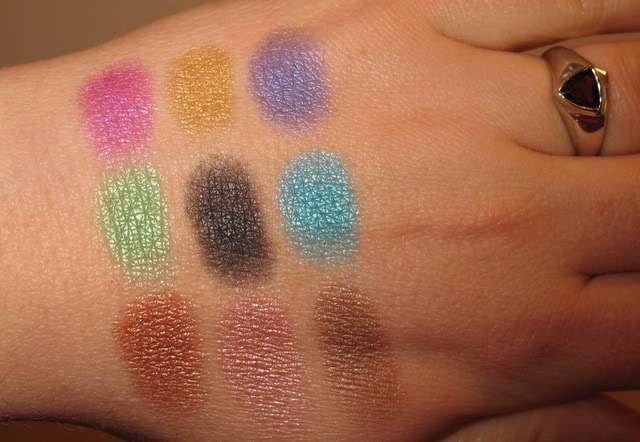 I liked that this palette had soft, bright colors sans silver glitter. But it's hardly the kind of thing I'd recommend to a client for everyday use, and most of their kits are still a bit too edgy, sparkly and/or colorful.
Well, UD must have read my mind, because they are coming out with the Naked palette, and it looks just luscious:
Beauty blogger & product swatcher extraordinaire Temptalia has an entry showing the colors in action, and they are quite appealing – neutrals with a kick! Sure, I'd have liked a few more matte/satin shades (UD's always a little heavy on the sparkle), but these are lovely and I think they'd make a great go-to palette for almost anyone. It even comes with a double-ended liner and a mini version of their famous Primer Potion (which minimizes creasing and increases longevity). I must admit, I don't need this at ALL but I am tempted! If you're in the market to amp up your everyday eye looks, I'd definitely suggest checking this one out.
Now if UD would just get us a pro artist discount already, I'd be adding a lot more of their stuff to my kit!